Intimidator UTVs and Bad Dawg Accessories have been around for many years now, but a couple of things have put them on UTV Action's radar. In 2014, the company signed a contract to build Impact UTVs for Mahindra, and the Intimidator Group recently completed a 200,000 square foot assembly facility in addition to its fabrication building. We recently got a chance to see Intimidator Classic and GC1K UTVs being built and to drive the entire lineup of GC1Ks, which includes four trim levels on GC1Ks and Crews, along with Trucks. We test the GC1K Truck here.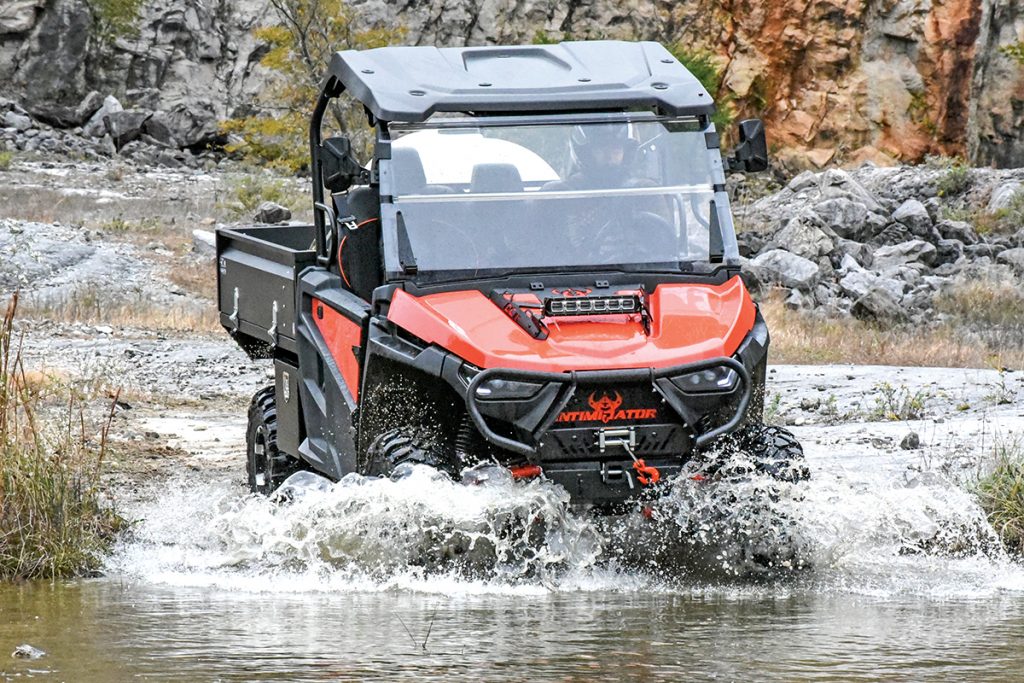 WHAT IS NEW FOR 2020?
Base-model GC1Ks have 27-inch tires on steel 14-inch rims, a 4-inch monochrome digital display and preload-adjustable shocks, while Stage 1 models upgrade to 28-inch tires on 14-inch aluminum rims, 4-inch color display, electric bed lift and double USB chargers. Stage 2 adds heavy-duty half-shafts and 8-ply tires to Stage 1 hardware. Stage 3 has Stage 1-2 features plus Elka HPG shocks on short-wheelbase models. Stage 3 adds a 7-inch touchscreen display and WetSounds sound bar to Stage 2 features.
GC1K Truck models are equivalent to Stage 2  short-wheelbase Intimidators. They have a long steel bed with 1,000-pound capacity, and the sides fold down and are removable. Trucks have EPS, dual electric bed lifts, dual 2-inch receivers, electric parking brakes, and heavy-duty toolboxes. We saw GC1Ks on the new assembly line, and they have automotive construction with car-sized differentials, sealed wheel bearings from Honda Accords, 1.75-inch certified ROPS cages and frames, 1.5-inch DOM A-arms, nylon bushings, roto-molded plastic bodywork, injection-molded painted body panels, braided-steel wiring looms, steel skid plates and bed floors and AGM batteries. All GC1K UTVs have an 83-horsepower TGB V-twin with dual-range CVT.
Intimidator UTVs are made in the same factory that produces Spartan Zero-Turn mowers and are sold mostly through Spartan dealers. They have never had to warranty one of their UTV frames.
HOW DOES COST COMPARE?
GC1K Trucks have a cash price of $16,799 and a financing MSRP of $18,499. Intimidator 750G Trucks with Kohler 750cc twins run from $11,899 (cash) to $14,499 for camo models. Trucks with 1000cc Kohler diesel motors are $14,199 to $17,099. The Defender HD10 Pro DPS is $17,899, and the HD10 Pro XT is $20,099.
HOW FAST IS THE GC1K TRUCK?
It's sure and steady. Acceleration is less sporty than the Can-Am Defender HD10 Pro tested last month. The V-twin TGB engine has a 92mm bore, 75mm stroke and a 10.5:1 compression ratio, and it delivers 83 horsepower. We got 65 mph in High and 26 mph in Low range. While it's not that quick in acceleration, it's still fast enough to be fun when the work is done.
HOW IS THE GC1K DELIVERY?
Also smooth and steady. The CVT engages smoothly and a bit slowly, which is great for crawling and work, and Low is nice and low for towing up to a ton. There isn't any EBS built into the CVT, but the GC1K has plenty of compression braking when you give it a bit of trailing throttle on downhills, especially in Low. The rear differential unlocks, but there is no locking-front diff mode, just 2WD/4WD. The gated shifter on the dash takes a while to break in and loosen up.
HOW IS THE INTIMIDATOR'S SUSPENSION?
Tuned stiffly for work. The high-pressure shocks are only preload adjustable, and the shocks are stiff in the softest setting. They're tuned more for three and/or a heavy load in the Truck bed, so the ride quality suffers when there is no cargo or no passengers. On the other hand, bottoming resistance is great. GC1Ks have 10 inches of travel, front and rear, and the A-arms are heavy-duty 1.5-inch DOM steel, which is racing grade.
HOW DOES IT HANDLE?
The GC1K Truck is surprisingly agile. The Truck has an 8-inch-shorter wheelbase than the GC1K Crew at 110 inches and turns surprisingly tight arcs. We drove it on a cold, wet day, and the solid-feeling Truck still could drift into turns. It doesn't do anything too quickly, as it has a curb weight of 2,300 pounds, thanks to the automotive construction.
HOW IS IT IN CHALLENGING TERRAIN?
It's a solid performer in most terrain and very sure-footed. A full steel skid plate protects the underside, and the lower A-arms have plastic guards. The rack-and-pinion steering has great EPS assist for threading through the tight stuff. The 28×10.5R14 eight-ply radial tires provide great grip, and front-width rear tires mean only having to carry one spare. It's a great rock crawler and good in mud until the ruts exceed 14 inches in depth. Roto-molded bodywork does a great job of keeping mud out of the cabin, and the engine and CVT intakes are at hip level behind the cabin. The intake housing even has frog-skin mesh.
HOW STRONG ARE THE BRAKES?
Pretty strong, but not like the Defender Pro tested last month. The solid 10.25-inch rotors are clamped by dual-piston hydraulic calipers at all four corners and the lines are high-quality braided steel, but they're slowing an automotive-size drive shaft and axles.
HOW ARE THE DETAILS?
Excellent. Construction throughout is heavy duty and on the verge of overkill. The roto-molded dash and doors are high quality, and the digital dash is excellent. It has a 7-inch screen with analog tach needle, a digital speedometer in the center, and huge gas level and temperature bars on either side with actual numbers below. It is also configurable to show other parameters. The bench seat is super comfortable and stylish with color-matched piping. The hood pops up to access the battery, fuse box, automotive-grade radiator and coolant reservoir. A switch on the dash raises and lowers the tilt bed via the two electronic rams. The front bumper is three-piece and burly, and the front and rear 2-inch receivers are also stout.
WHAT IS OUR FINAL ANSWER?
We're impressed with the 2020 GC1K Truck and its heavy-duty construction. It has a lot of power and torque for heavy loads and extreme terrain, and it is rock solid. It turns well with very little effort from the driver, thanks to great EPS assist. Aside from the engine and CVT noise in the cabin, comfort is excellent, and the instrumentation is unmatched by any utility/recreation UTV. It has a lot of great things going for it, and it's made in the USA. Check out www.intimidatorutv.com for dealers near you. 
SPECS:
2020 INTIMIDATOR GC1K TRUCK
ENGINE/TRANSMISSION
Engine type Liquid-cooled, 8-valve, SOHC 4-stroke
V-twin
Displacement 997.1cc
Bore x stroke 92mmx75mm (2)
Compression ratio 10.5:1
Lubrication system Wet sump
Induction EFI Throttle body w/injectors
Starting/back-up Electric turn-key/none
Starting procedure In any range, brake engaged
Air filter:
Type Paper mesh/screen
Transmission Dual-range CVT
Drive system Selectable 2WD/4WD
Final drive f/r Shaft/shaft
DIMENSIONS/CAPACITIES/WEIGHTS
Fuel capacity 9.0 gal.
Wheelbase 110.0"
Overall length/width/height 157"/64"/82"
Ground clearance 14.0"
Claimed curb weight 2,300 lb.
Rear Rack capacity 1,000 lb.
Towing capacity 2,500 lb.
ROLLING CHASSIS
Frame 2-inch, high-strength steel, ROPS-approved
Suspension/wheel travel:
  Front Dual A-arms & shocks w/adj. prel./10.0"
  Rear TTA trailing-arms & shocks w/adj. prel./10.0"
Brakes:
  Front Hydraulic 10.25" discs
  Rear Hydraulic 10.25" discs
Tires:
  Front 28×10.5-14 8-ply Intimidator
  Rear 28×10.5-14 8-ply Intimidator
DETAILS
DC outlet Auto-style waterproof plug, USBs
Lighting:
  Front Two LED headlights
  Rear Two LED tail/brake lights
Instrumentation Digital speedo/odo/tach/trip/hour/fuel/
gear position/diagnostics/clock
Colors Orange, Grey
Minimum recommended operator age 16
Suggested retail price $16,799–$18,499
Contact .Intimidator UTVs, (855) 307-0933;