2021 CFMOTO UFORCE 600 TEST
2021 CFMOTO UFORCE 600 TEST
We reported on the ZForce 950 Sport in the January 2021 issue, and now CFMoto has a couple of new-model UTVs for 2021. Our 2021 CFMoto Uforce 600 test reveals this all-new machine has a lot going for it, including a long list of standard features not found on Special or Limited Editions of other manufacturers' utility UTVs. It's aimed right at the Can-Am Defender HD5, Polaris Ranger 570 and new Honda Pioneer 520 with tilt bed.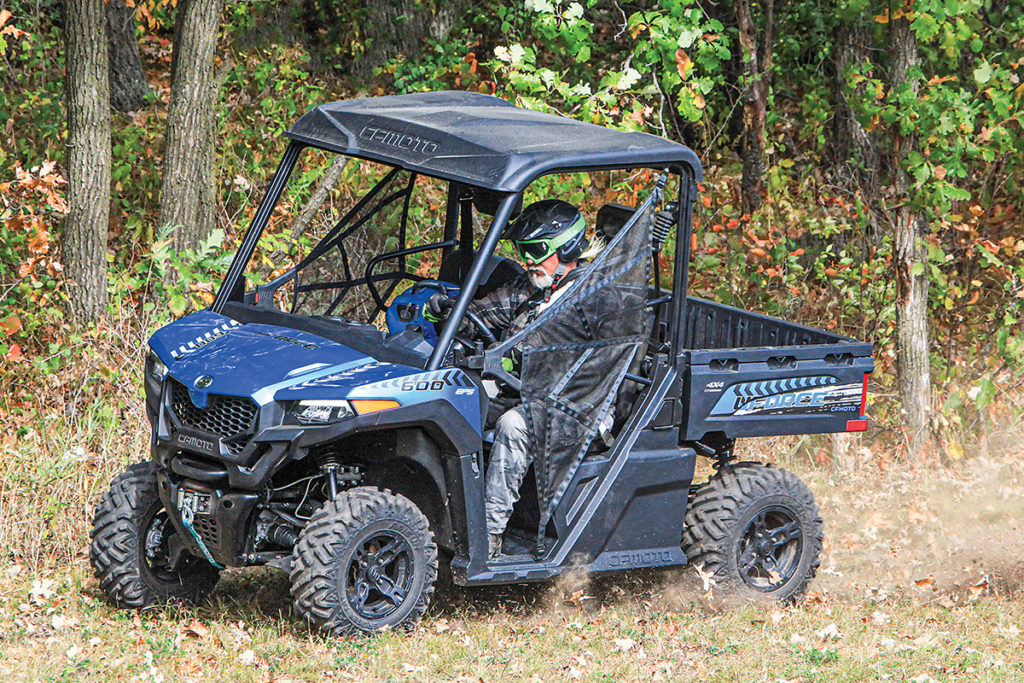 WHAT IS CFMOTO?
CFMoto has been importing UTVs and ATVs into Canada and the U.S. from overseas for two decades, and building them for the world market since 1989. According to the company, they hold over 50 percent of the market share for ATV sales in Europe. Most of their machines have high-end accessories for a price less than most manufacturers' base-model machines. The brand is very well-known in Canada and getting popular in the U.S. now as well. They also build engines for some KTM motorcycles. All CFMoto UTVs come with a one-year warranty.
HOW DOES COST COMPARE?
The UForce 600 price hasn't been set at press time, but the UForce 800 is $10,999, and the ZForce 500 is $9099. For comparison, Polaris sells the base Ranger 570 for $10,199 and the 570 Premium with EPS and paint for $11,899. Can-Am's Defender HD5 starts out at $10,399, and the HD8 starts at $12,399 and jumps to $13,599 for the DPS model with a roof. Honda's new Pioneer 520 with tilt bed is $9499 or $9799 for camo. There are CFMoto dealers popping up all over the U.S. To see if one is near you, log on to https://cfmotousa.com/dealer-locator. You can also give them a call toll-free at (888) 8CF-MOTO.
WHAT ARE THE 600'S STANDARD FEATURES?
The new UForce 600 sports variable-assist EPS, tilt steering, an adjustable driver's seat, dial-type 2WD/4WD/diff-lock switch, Eco/Sport drive mode, kill switch, large LCD readout, parking brake, a 3500-pound winch, front bumper, steel bash plate, full-length skid plates, plastic roof, hazard lights, horn, profile-tube ROPS cage, Arisun Bruiser X AT 25-inch tires on 12-inch aluminum rims, Ride Vision LED headlights with daytime running lights, and LED taillights with back-up lights.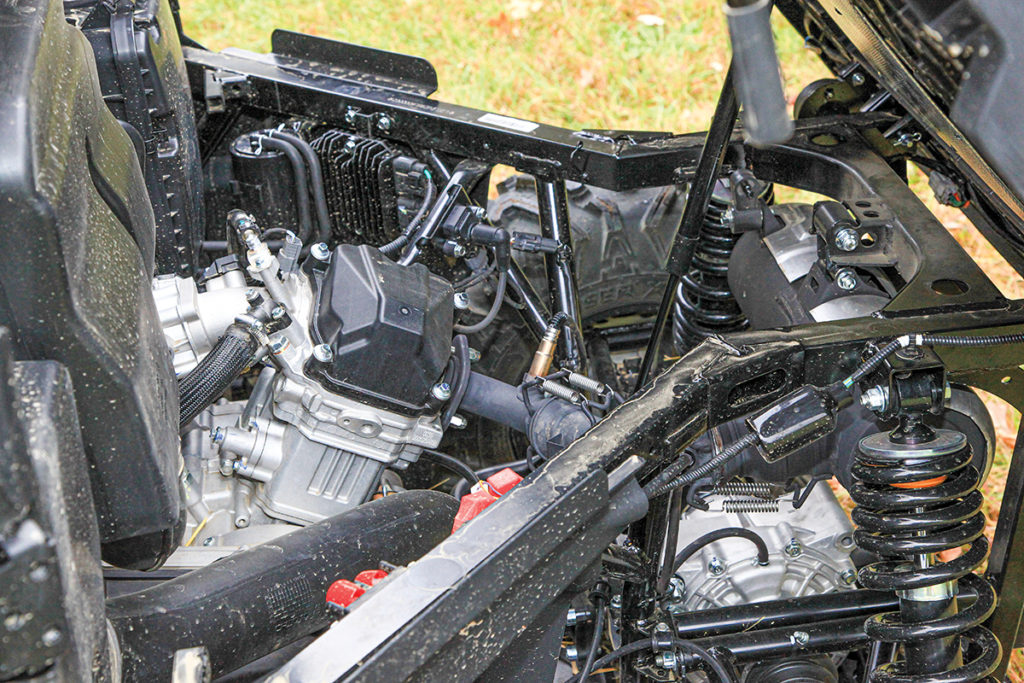 WHAT POWERS THE UFORCE 600?
A liquid-cooled, SOHC, four-valve, EFI single producing 40 horsepower (@ 6750 rpm) and 36 pound-foot of torque (@ 5250 rpm). The long-stroke 580cc single is peppy, and we got 40 mph in high and 27 mph in low range.
WHAT KIND OF DRIVETRAIN DOES IT HAVE?
The dual-range CVT is by CVTech, and the driveshafts and axles are stout. CVs are well-protected as well. The front differential locks, but the rear one does not unlock. A slick gated range selector rides on the dash.
HOW IS POWER DELIVERY?
Smooth and steady. The long-stroke motor doesn't do anything surprising, and neither does the CVT clutching. The Sport/Eco mode switch is good for saving gasoline when the 9.25-gallon tank gets low. CFMoto claims the power output to be 40 horsepower, where Polaris claims 44 horsepower for the Ranger 570.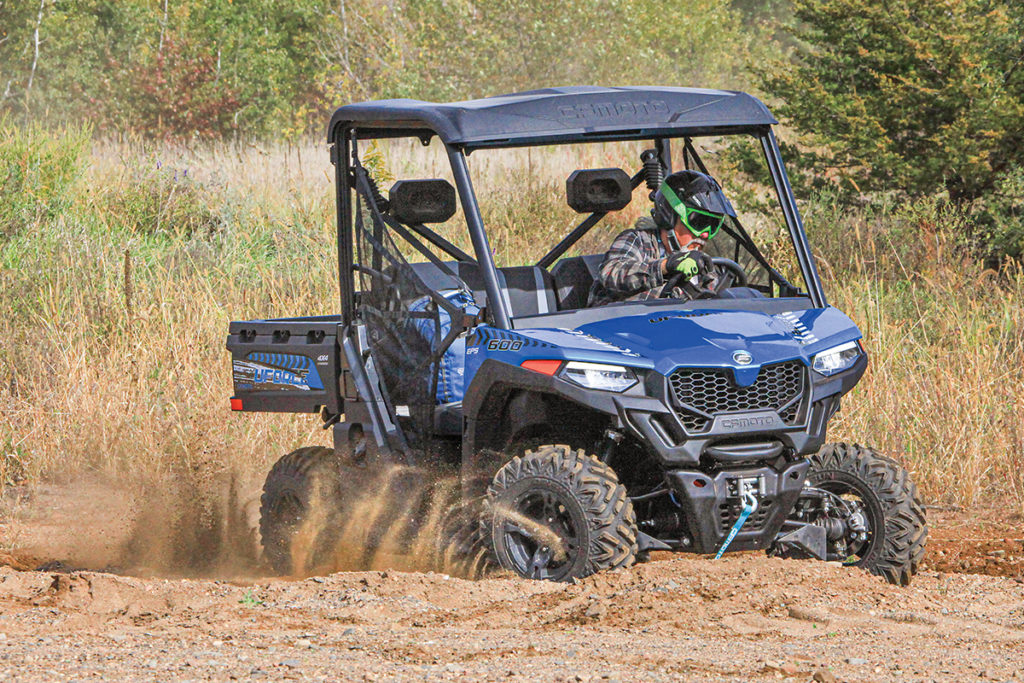 WHAT KIND OF SUSPENSION DOES IT HAVE?
Dual-A-arm, fully independent suspension on all four corners. Front A-arms are tubular steel with high-clearance lowers and shocks attaching to gull-wing uppers, while rear A-arms are square-tubed with longer shocks attaching to lowers. Both ends have sturdy plastic guards, and rear arms are connected by a beefy sway bar to fight body roll. Beefy HPG shocks have five-position preload rings, and the ride is plush with the standard settings, which are one down from full stiff in front and full soft in back. Jack up the rear preload as the bed is loaded to its 600-pound limit.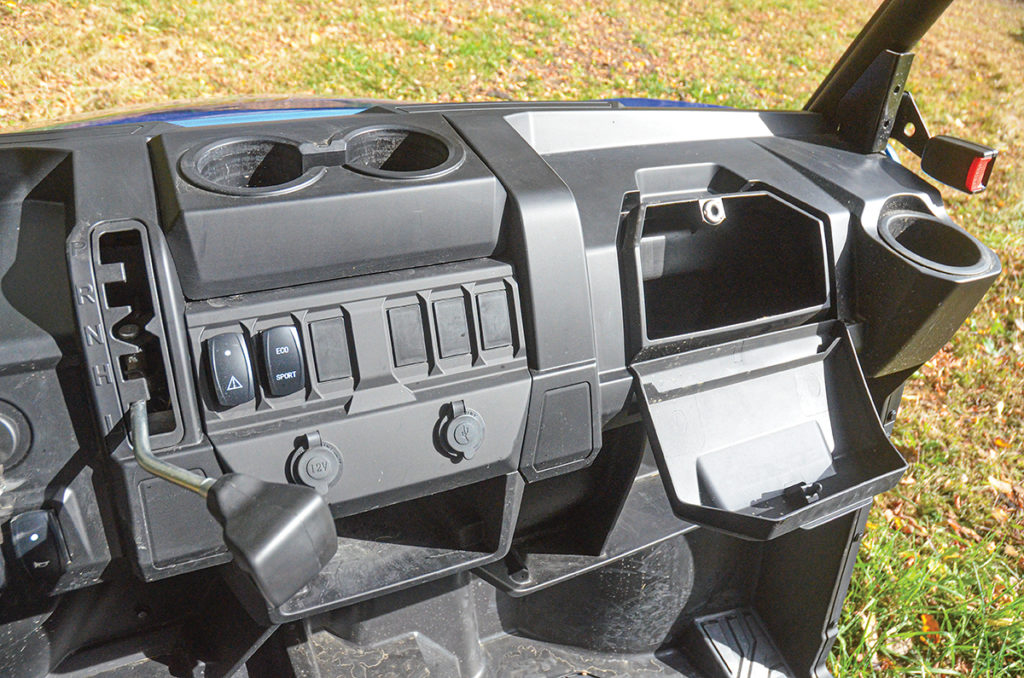 HOW DOES IT HANDLE?
Very predictably, but we did get the front end to push in 4WD on softer soils. We did the 2021 CFMoto Uforce 600 test in Minnesota, where we found a good mix of tight trails and open terrain. The 80.7-inch wheelbase and compact chassis help the 600 snake through tight trees and trails, but the turning radius is 26.9 feet. It doesn't want to slide the rear around in high-traction conditions but is predictable on slicker soils. We feel much of this is due to the high-end Arisun Bruiser X AT tires. The rear sway bar fights body roll in turns, too.
HOW STRONG ARE THE BRAKES?
They're pretty good. Single-piston hydraulic calipers are large and squeeze non-perforated rotors. They're backed up by a parking brake on the dash, and the engine has decent compression braking.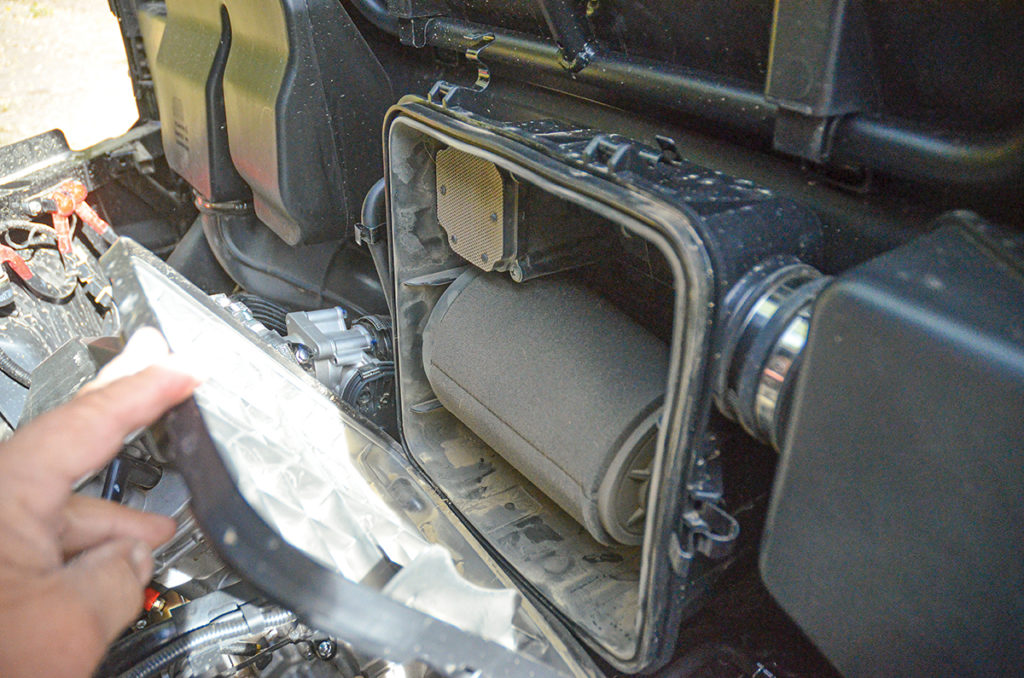 HOW ARE THE DETAILS?
Excellent. Single-latch nets and side bolsters provide cabin security, and the bench-style split seats have two-tone covers. The driver's seat adjusts, and the passenger seat base removes for large under-seat storage. The molded steering wheel is nice and doesn't flex on large bumps. EPS assist is nice, and noise in the cabin is low. The dash has three cup holders, a large glove box, space for a radio and other under-dash storage, 12-volt/USB ports, and four blanks for accessory switches. The roof is channeled to keep rainwater out, and the floor has drains and traction dimples for wet work.
The tilt bed is large and has two latches to secure the tailgate. Undo two rubber straps, and the entire front fascia and hood tilt forward to allow easy access to the radiator, coolant reservoir, brake reservoir and master cylinder, fuse box, front shocks, and winch. LED headlight and taillights are nice and powerful, and overall build quality is impressive. Although there are no doors, the wide front fenders kept flung mud out of the cab.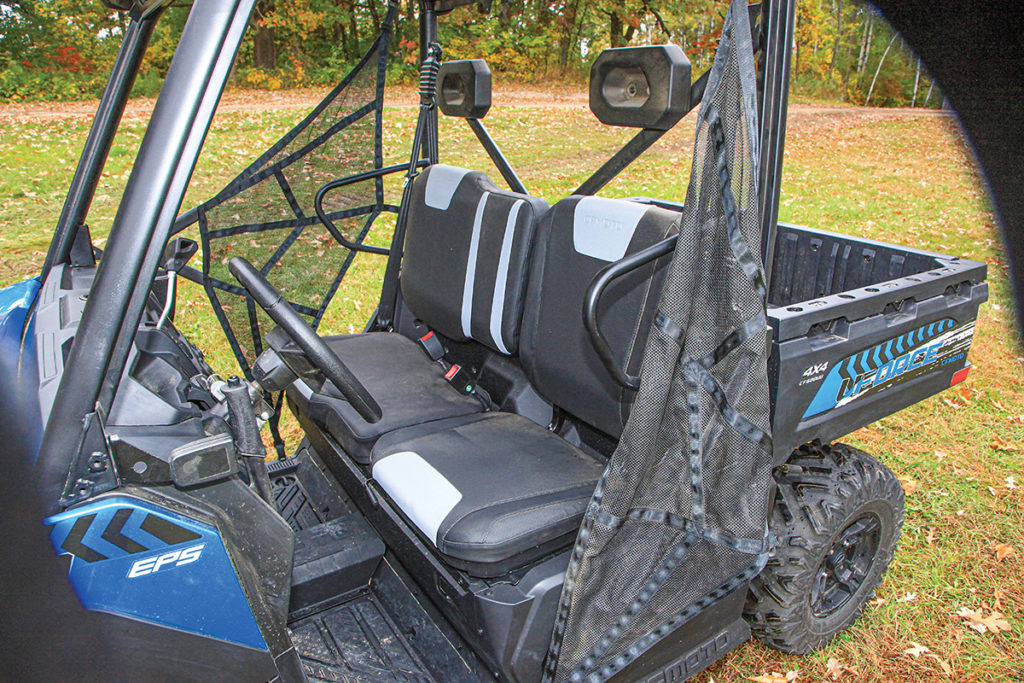 WHAT IS OUR FINAL ANSWER?
While we felt the UForce 1000 tested in the September, 2020 issue needed smoother power delivery, it's still the lowest priced 1000cc recreation UTV at $11,999. The new UForce 600 is a much more economical and user-friendly workhorse for the farm, ranch or worksite, and yet it's still fun when the work is done. The compact chassis is sturdy, and build quality is very good. It is a capable performer with predictable handling, good brakes, comfortable cabin and a long list of standard features, including a winch for clearing trail or vehicle rescue.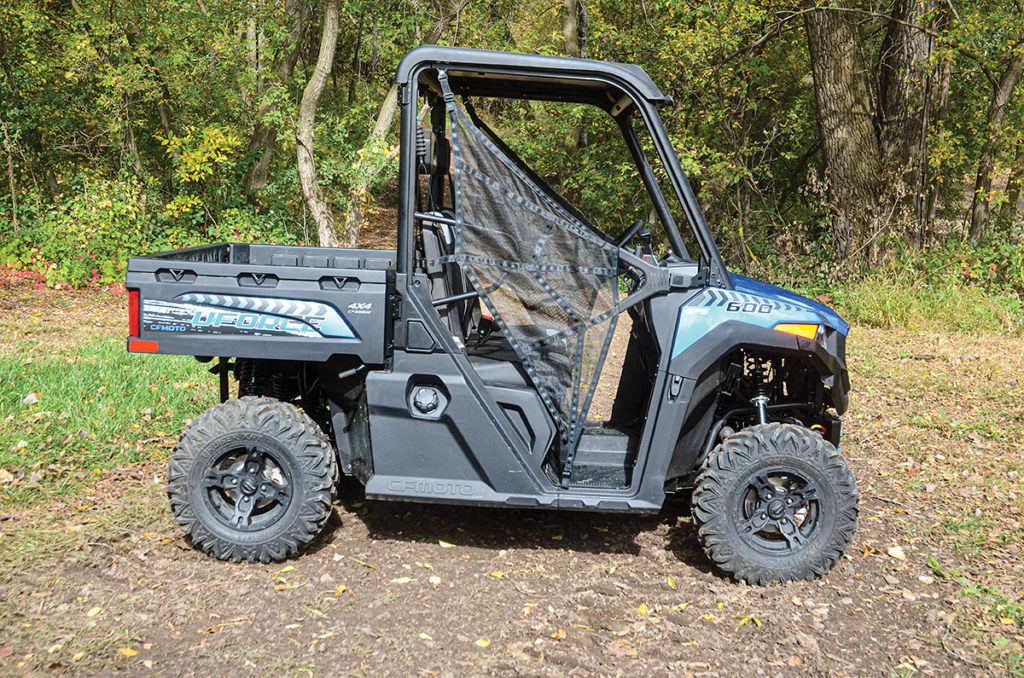 SPECS:
2021 CFMOTO UFORCE 600
ENGINE/TRANSMISSION
Engine type Liquid-cooled, SOHC, 4-valve
4-stroke single
Displacement 580cc
Bore x stroke 91mm x 89.2mm
Compression ratio 10.7:1
Lubrication system Wet sump
Induction EFI Throttle body
Starting/back-up Electric push-button/none
Starting procedure In any range, brake engaged
Transmission . Fully auto CVTech CVT
Drive system Selectable 2WD/4WD
Final drive f/r Shaft/shaft
DIMENSIONS/CAPACITIES/WEIGHTS
Fuel capacity 9.25 gal.
Wheelbase 80.7"
Overall length/width/height 110.5"/57.25"/75.5"
Ground clearance 10.25"
Claimed dry weight 1,481 lb.
Bed capacity 600 lb.
Towing capacity 1,250 lb.
ROLLING CHASSIS
Frame 2-inch, high-strength steel, ROPS-approved
Suspension/wheel travel:
  Front Dual A-arms & shocks w/ adj. prel./8.5"
  Rear Dual A-arms & shocks w/ adj. prel./8.5"
Brakes:
  Front Single-piston hydraulic discs
  Rear Single-piston hydraulic discs
Tires:
  Front 25×8-12 Arisun Bruiser X AT
  Rear 25×10-12 Arisun Bruiser X AT
DETAILS
DC outlet Auto-style waterproof plug
Lighting:
Front Two LED  headlights
Rear Two LED tail/brakelights
Instrumentation Digital speedo/odo/tach/trip/
hour/fuel/gear position/diagnostics/clock
Colors Royal Blue, Titanium Grey, True Timber Camo
Minimum recommended operator age 16
Suggested retail price $TBA
See UTV Action's full test on the CFmoto Uforce 1000 here: https://utvactionmag.com/2020-cfmoto-uforce-1000/
Contact www.cfmotousa.com